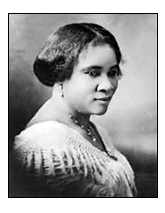 In honor of Black History Month, this week Grandma Maud's would like to salute Madam C.J. Walker. Read the complete article about Madam C.J. Walker at "blackinventor.com" This is an extraordinary life story of struggle, loss and success.
…After her early suffering and poverty plagued existence, Sarah McWilliams had looked for a way out and as Madam C.J. Walker was able to purchase a 34 room mansion built off of the Hudson River in New York. When she died on May 25, 1919, she was mourned throughout the Black community as a pioneer and a Black industrialist. For many women, White and Black, however, she had served as an inspiration and a role model….excerpt from blackinventor.com
We are celebrating Black History month at Mariano's Bridgeport, 3145 S. Ashland Avenue on Friday Feb 27th from 11am – 3pm y'all. The celebration will continue at Mariano's South Loop, 1612 S. Clark Street on Saturday Feb 28th from 11am – 3pm. Taste some delicious recipes cooked with Grandma Maud's Down Home Cookin' products.