With the cold winter sweeping across the country, everyone is in need of something warm and hearty. This simple recipe can easily be modified to suit your own tastes or left as it is to be enjoyed by all.
Prep time: 5 mines Cook time: approx. 1 hour
Ingredients
4-5 c water
1-2 Tbsp Olive Oil
1 bag Grandma Maud's Bean Medley
1-2 Tbsp Cream
1-2 Tbsp Sour cream (Garnish)
Chopped Cilantro (Garnish)
Makes: 4- 1 c. servings
Directions: Bring water and oil to boil, add Grandma Maud's Bean medley. Reduce heat and simmer, stirring frequently, until beans are cooked thoroughly.
Pour cooked beans & liquid into blender, puree until smooth. Pour mixture back into pot and finish with cream. Garnish with cilantro and sour cream.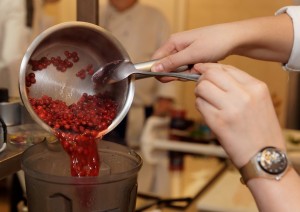 Cooking Tip: When blending hot food, cool slightly, remove round plastic center piece from lid, fold up clean kitchen towel and hold over opening while blending. Filling up only half way and following above steps will allow steam to escape and lesson the chance of an eruption.
Purchase 12 packs ONLINE