Hey y'all we are celebrating Black History Month in a big way at Jewel-Osco in the Chicagoland area for the entire month of February. Grandma Maud's is one the featured vendors for Jewel-Osco's Taste of Black History. Follow and friend us on Facebook, Twitter, Instagram and Pinterest #JewelOscoBHM for dates and locations of our latest food samplings. All of our retail product line will be featured so come on by and sample some of our good ole Bean Meals like red beans & rice and black-eye peas. Y'all so can't leave without tasting the green beans & white potatoes that we seasoned with our Premium Southern Seasoning and finish it all off with a sample of our homemade sweet potato pie made with our Pie Fixin's! Oh and we got some recipe cards waiting on y'all too.
For Black History Month each day read about an African-American inventor. Over 300 years chronicled. Below is a small sampling of the rich detailed information you will find at "Black Inventor On-Line Museum" Inventions by Black males and females, Dr.'s and farmers. Learn and grow with these inspiring stories.
In honor of Black History Month, this week Grandma Maud's would like to salute Percy Julian.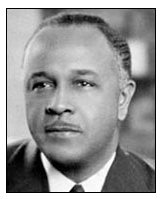 ……. In late 1935, Percy Julian decided to leave the world of academics and entered the corporate world by accepting a position with the Glidden Company as chief chemist and the Director of the Soya Product Division. This was a significant development as he was the first Black scientist hired for such a position and would pave the way for other Blacks in the future. The Glidden Company was a leading manufacturer of paint and varnish and was counting on Julian to develop compounds from soy-based products which could be used to make paints and other products. Julian did not disappoint, coming up with products such as aero-foam which worked as a flame retardant and was used by the United States Navy and saved the lives of countless sailors during World War II. …….excerpt from blackinventor.com